National Institute of Technology Calicut, with an aim of fostering entrepreneurship initiatives among the students has established Institution's Innovation Cell in association with MHRD and the Ministry of HRD's Innovation Cell (MHRD) in the year 2017-18. The role of IIC would be to identify and nurture technology based innovative startups.
Major focus of IIC
To create a vibrant local innovation ecosystem.

Start-up supporting Mechanism.

Prepare institute for Atal Ranking of Institutions on Innovation Achievements Framework.

Establish Function Ecosystem for Scouting Ideas and Pre-incubation of Ideas.

Develop better Cognitive Ability for Technology Students.
IIC at NIT Calicut is planning to conduct various innovation and entrepreneurship related activities such as periodic workshops, seminars, interactions with entrepreneurs, investors, professionals and create a mentor pool for student innovators. This ideally is expected to bring outcomes such as successful innovative projects carried out by institution's faculty and students. Hackathons, idea competitions and other mini-challenges are some of the other programmes which can also be organised by IIC.
Prescribed Calendar Activities
Workshop on Entrepreneurship and Innovation as Career Opportunity – 30 July
A distinguished Alumni Lecture Talk delivered by Mr. Alok Ranjan Tripathy, an Alumni of NIT Calicut with his current role as Senior Director in IT sales in Infosys. He is a well experienced in diverse sectors like Retail, Telecom, Financial Industry and Insurance across Switzerland, Sweden, Belgium, France, India and UK.
Motivational Speak by Innovator – An Experience Sharing Session – 3 August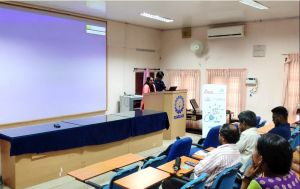 How should an Entrepreneur take up the spirit of challenges, Identification and Utilization of the World of Opportunities, Alumni Talk
Motivational Speak by Entrepreneur– An Experience Sharing Session – 14 September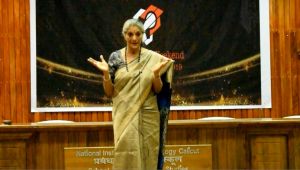 Attracting young innovative minds to come out with their innovative ideas and be creative enough to consider Entrepreneurship as a Career Opportunity
Self Driven Activities
Industry 4.0 Conclave – 5 September
Talks and panel discussions by Experts from Industry and the Institute and the Academia Industry collaborations.
Introduce students to the world of Machine Learning and enable them to apply Machine Learning to solve problems – 12 September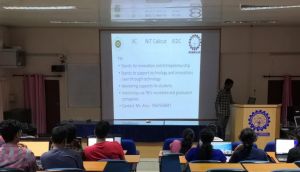 Students were able to conclude if a certain problem is compatible with the idea of machine learning approach or not, if so develop solutions for it with the theoretical and practical sessions.
Problem solving/ Design Thinking/ Ideation Workshop –
15 September
Mentoring sessions for students based on them getting shortlisted for the Idea Submissions.
NLP (Neuro Linguistics Programming) – How the brain works –
12 September
Students were able to conclude if a certain problem is compatible with the idea of machine learning approach or not, if so develop solutions for it with the theoretical and practical sessions.
ISBA BioNEST Conclave –
20 September
Introduction of BIRAC Schemes to the budding entrepreneurs as well as students and faculty of the Institute with Entrepreneurial Spirits.
Interactive Session -Leader\'S Inspiring Journey By Mr. Gopi Thangavel, Vp, Reliance Industries
The session included: Leader's Inspiring Journey, Case studies and examples from across the industries, stories of the Leader relevant to the subject. Along with this talk, there was an alumni session and Ms. Kavya Somepalli interacted with the students.
MIC Driven Activities
India First Leadership Talk Series – 22 August
Education Policy, Innovation and Startups, Career Development & Employability. Digitization of Education and How students and education institutions can contribute to National Mission Shri Ramesh Pokhriyal, Minister of HRD, GoI
NEAT Logo Contest
One of the IIC student coordinators has given his contribution in terms of designing a logo for the NEAT logo contest so as to conceptualize MHRD's vision National Education Alliance for Technologies as a Scheme for using Technology for making learning easier.
Innovation Day Campaign
An Introduction on Robotics by one of the Faculties of the Institute to a group of school students to inculcate a culture of Innovation and Entrepreneurship among them.